Here is our calendar for August 2023 Summer Reading Program!
*Craft Mondays: Join us anytime between 10:30 am & 4:30 am for some crafting in the library!
*Tuesdays: Spanish club from 3 pm to 4pm.
*Wednesdays:
– The 2nd and 9th: Creative Storytime from 4:30 pm to 5:30 pm.
– The 16th: Summer Program Closing Party! from 4:30pm to 6:30 pm.
*Thursdays: Riddles / Scavenger Hunt! anytime between 3 pm & 4:30 pm.
*Fridays:
– The 4th: Petting Zoo with Mike Morton – Sun Dance Kids Farm! @2pm.
– The 11th: Little Chef: Rainbow Cookies and Veggies Tasting! from 2 pm. to 4 pm. Registration Required
*Saturdays: Family Movies Matinee and popcorn! @ 10:30 am.
Summer Reading Program runs for 5 weeks, from July 3rd to August 12th. Our Summer Reading Program Closing Party (with a public Drawing and Prizes for Summer Reading Challenge, Social Ice cream, Face Painting, music and more) will be on August 16th!
After August 16th, we will keep offering more regular programming. Follow us on Facebook!
Come to your Library!
#alltogethernow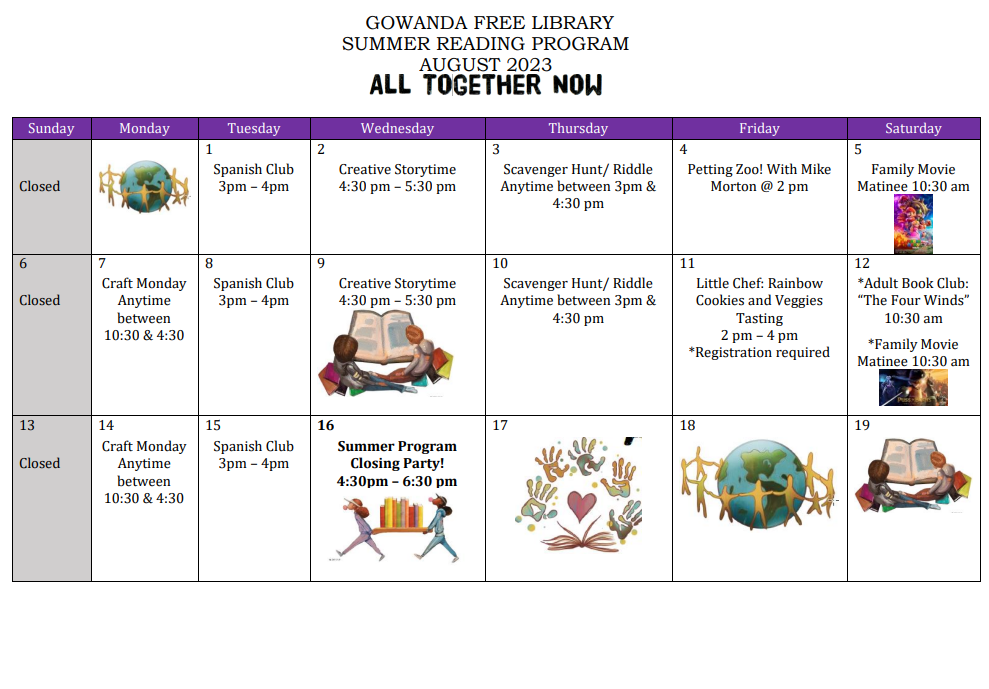 Summer Program August 2023 Calendar