The Gowanda Free Library is committed to having a healthy and diverse collection for our patrons, and that means we pay special attention to make sure we are seeking out books from voices in marginalized communities. We were privileged to receive grant money from the Chautauqua-Cattaraugus Library System Diversity Outreach Grant and used that to expand out collection of books, both fiction and non-fiction across all age groups at the library, that include characters, experiences and voices that are physically disabled. We believe that all of our community should be represented in our collection, and that books are windows to others experiences and it benefits all of our patrons to read books from and about diverse voices. We hope you enjoy the books we added to our collection and please share any reviews of these books with our staff that we can add to this page!
So Lucky by Nicola Griffith
Behind Closed Doors by B. A. Paris
Laughing at MY Nightmare by Shane Burcaw
We All Have Different Abilities by Melissa Higgins
We Want to Go to School by Maryann Cocca-Leffler
The War that Saved my Life by Kimberly Brubaker Bradley
Roll with It by Jamie Sumner
Disability Visibility by Alice Wong
You Are Enough by Sofia Sanchez
Sitting Pretty by Rebekah Taussig
El Deafo by Cece Bell
A Curse So Dark and Lonely by Brigid Kemmerer
The Summer of Impossibilities by Rachael Allen
Sick Kids in Love by Hannah Moskowitz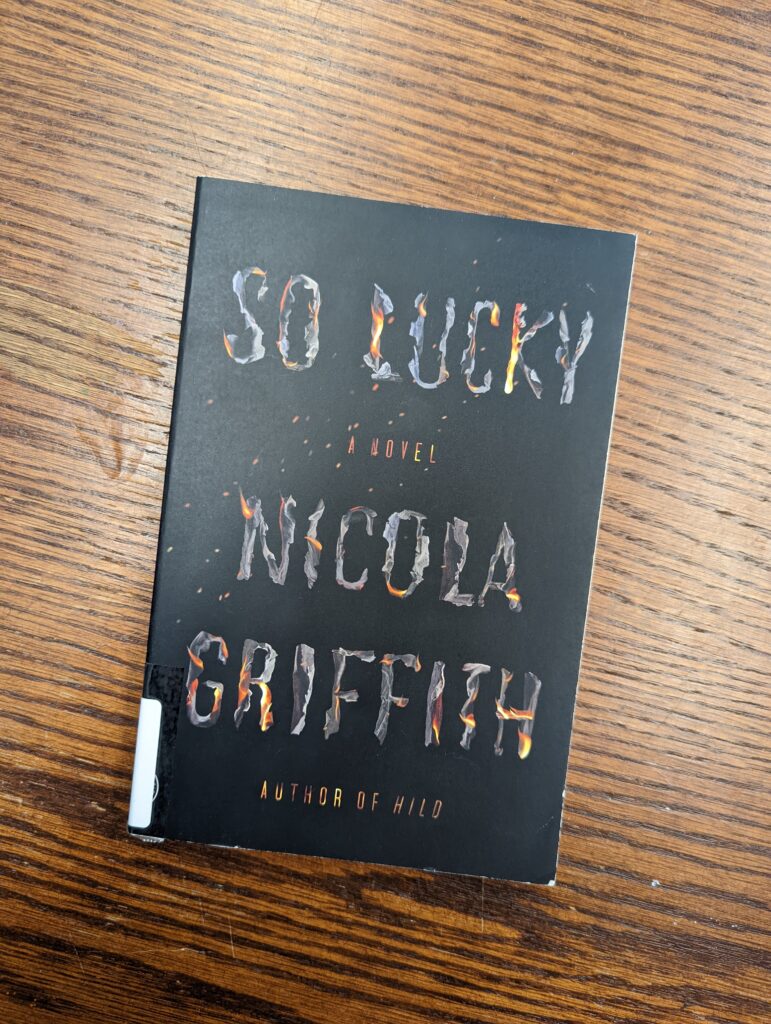 Synopsis:
Mara Tagarelli is, professionally, the head of a multimillion-dollar AIDS foundation; personally, she is a committed martial artist. But her life has turned inside out like a sock. She can't rely on family, her body is letting her down, and friends and colleagues are turning away—they treat her like a victim. She needs to break that narrative: build her own community, learn new strengths, and fight. But what do you do when you find out that the story you've been told, the story you've told yourself, is not true? How can you fight if you can't trust your body? Who can you rely on if those around you don't have your best interests at heart, and the systems designed to help do more harm than good? Mara makes a decision and acts, but her actions unleash monsters aimed squarely at the heart of her new community. This is fiction from the front lines, incandescent and urgent, a narrative juggernaut that rips through sentiment to expose the savagery of America's treatment of the disabled and chronically ill. But So Lucky also blazes with hope and a ferocious love of self, of the life that becomes possible when we stop believing lies.
Everyone knows a couple like Jack and Grace. He has looks and wealth; she has charm and elegance. He's a dedicated attorney who has never lost a case; she is a flawless homemaker, a masterful gardener and cook, and dotes on her disabled younger sister. Though they are still newlyweds, they seem to have it all. You might not want to like them, but you do. You're hopelessly charmed by the ease and comfort of their home, by the graciousness of the dinner parties they throw. You'd like to get to know Grace better … But it's difficult, because you realize Jack and Grace are inseparable … Some might call this true love. Others might wonder why Grace never answers the phone. Or why she can never meet for coffee, even though she doesn't work. How she can cook such elaborate meals but remain so slim. Or why she never seems to take anything with her when she leaves the house, not even a pen. Or why there are such high-security metal shutters on all the downstairs windows … Some might wonder what's really going on once the dinner party is over, and the front door has closed
With acerbic wit and a hilarious voice, Shane Burcaw's Laughing at My Nightmare describes the challenges he faces as a twenty-one-year-old with spinal muscular atrophy. From awkward handshakes to having a girlfriend and everything in between, Shane handles his situation with humor and a "you-only-live-once" perspective on life. While he does talk about everyday issues that are relatable to teens, he also offers an eye-opening perspective on what it is like to have a life threatening disease.
What can you do? Tie your shoes? Play piano? Everyone has different talents and abilities. Let's share and celebrate our many talents!
There was a time in the United States when millions of children with disabilities weren't allowed to go to public school. But in 1971, seven kids and their families wanted to do something about it. They knew that every child had a right to an equal education, so they went to court to fight for that right. The case Mills v. Board of Education of the District of Columbia led to laws ensuring children with disabilities would receive a free, appropriate public education. Told in the voice of Janine Leffler, one of the millions of kids who went to school because of these laws, this book shares the true story of this landmark case.
Ten-year-old Ada has never left her one-room apartment. Her mother is too humiliated by Ada's twisted foot to let her outside. So when her little brother Jamie is shipped out of London to escape the war, Ada doesn't waste a minute—she sneaks out to join him.  So begins a new adventure for Ada, and for Susan Smith, the woman who is forced to take the two kids in. As Ada teaches herself to ride a pony, learns to read, and watches for German spies, she begins to trust Susan—and Susan begins to love Ada and Jamie. But in the end, will their bond be enough to hold them together through wartime? Or will Ada and her brother fall back into the cruel hands of their mother?
Headstrong 12-year-old Lily "Ellie" Cowan loves to bake. Diagnosed with cerebral palsy at birth, Ellie heads to the kitchen when she gets frustrated with her overprotective mom, her hovering full-time aide, and her absent father. After Ellie's grandfather, who has dementia, drives his car into the local supermarket, Ellie and her mom pack up their Nashville home and move into her grandparents' tiny trailer in Eufaula, Okla. Soon, Ellie meets free-spirited neighbor Coralee and eccentric schoolmate Bert; their acceptance helps her to cope with her new school, which is far from wheelchair-friendly.
One in five people in the United States lives with a disability. Some disabilities are visible, others less apparent—but all are underrepresented in media and popular culture. Now, just in time for the thirtieth anniversary of the Americans with Disabilities Act, activist Alice Wong brings together this urgent, galvanizing collection of contemporary essays by disabled people. From Harriet McBryde Johnson's account of her debate with Peter Singer over her own personhood to original pieces by authors like Keah Brown and Haben Girma; from blog posts, manifestos, and eulogies to Congressional testimonies, and beyond: this anthology gives a glimpse into the rich complexity of the disabled experience, highlighting the passions, talents, and everyday lives of this community. It invites readers to question their own understandings. It celebrates and documents disability culture in the now. It looks to the future and the past with hope and love.
It can be hard to be different whether because of how you look, where you live, or what you can or can't do. But wouldn't it be boring if we were all the same? Being different is great! Being different is what makes you YOU. This inclusive and empowering picture book from Sofia Sanchezan 11-year-old model and actress with Down syndrome reminds readers how important it is to embrace your differences, be confident, and be proud of who you are. Imagine all of the wonderful things you can do if you don't let anyone stop you! You are enough just how you are. Sofia is unique, but her message is universal: We all belong. So each spread will feature beautiful, full-color illustrations of a full cast of kid characters with all kinds of backgrounds, experiences, and abilities.
A memoir-in-essays from disability advocate and creator of the Instagram account @sitting_pretty Rebekah Taussig, processing a lifetime of memories to paint a beautiful, nuanced portrait of a body that looks and moves differently than most. Growing up as a paralyzed girl during the 90s and early 2000s, Rebekah Taussig only saw disability depicted as something monstrous (The Hunchback of Notre Dame), inspirational (Helen Keller), or angelic (Forrest Gump). None of this felt right; and as she got older, she longed for more stories that allowed disability to be complex and ordinary, uncomfortable and fine, painful and fulfilling. Writing about the rhythms and textures of what it means to live in a body that doesn't fit, Rebekah reflects on everything from the complications of kindness and charity, living both independently and dependently, experiencing intimacy, and how the pervasiveness of ableism in our everyday media directly translates to everyday life.
Starting at a new school is scary, especially with a giant hearing aid strapped to your chest! At her old school, everyone in Cece's class was deaf. Here, she's different. She's sure the kids are staring at the Phonic Ear, the powerful aid that will help her hear her teacher. Too bad it also seems certain to repel potential friends. Then Cece makes a startling discovery. With the Phonic Ear she can hear her teacher not just in the classroom but anywhere her teacher is in the school—in the hallway . . . in the teacher's lounge . . . in the bathroom! This is power. Maybe even superpower! Cece is on her way to becoming El Deafo, Listener for All. But the funny thing about being a superhero is that it's just another way of feeling different . . . and lonely. Can Cece channel her powers into finding the thing she wants most, a true friend?
Prince Rhen, the heir to Emberfall, was cursed to repeat the autumn of his eighteenth year; he could only be saved if a girl fell for him. But at the end of each autumn he turned into a vicious beast hell-bent on destruction… and destroyed his castle, his family, and every last shred of hope. Washington, D.C. native Harper Lacy's father is long gone, her mother is dying, and her brother constantly underestimates her because of her cerebral palsy. When she is sucked into Rhen's cursed world, Harper doesn't know where she is or what to believe. As Rhen regains hope, they learn it will take more than a broken curse to save Harper, Rhen, and his people from utter ruin.
Skyler, Ellie, Scarlett, and Amelia Grace are forced to spend the summer at the lake house where their moms became best friends. One can't wait. One would rather gnaw off her own arm than hang out with a bunch of strangers just so their moms can drink too much wine and sing Journey at two o'clock in the morning. Two are sisters. Three are currently feuding with their mothers. One is hiding how bad her joint pain has gotten. All of them are hiding something. One falls in love with a boy she thought she despised. One almost sets her crush on fire with a flaming marshmallow. One has a crush that could change everything. None of them are the same at the end of the summer. 
Isabel has one rule: no dating. It's easier—It's safer—It's better—for the other person. She's got issues. She's got secrets. She's got rheumatoid arthritis. But then she meets another sick kid. He's got a chronic illness Isabel's never heard of, something she can't even pronounce. He understands what it means to be sick. He understands her more than her healthy friends. He understands her more than her own father who's a doctor. He's gorgeous, fun, and foul-mouthed. And totally into her. Isabel has one rule: no dating. It's complicated— It's dangerous— It's never felt better—to consider breaking that rule for him.